ELI was started in 1988 and functioned mainly as a recording studio and electronic consulting firm. The founder, Dave Derr, was also employed at the time by Eventide as an audio engineer where he was part of the core design team for the H3000, H3500, and DSP4000. His experience at Eventide proved invaluable for his later work. While working alongside Ken Bogdanowicz and Bob Belcher (both now at Soundtoys), Dave was exposed to state of the art engineering and the modern world of digital signal processing (DSP).

The first Empirical Labs product – the Distressor – was designed in 1994, tested and revised for several years, and released in 1996. With over twenty-five thousand units sold, it has unquestionably become a modern classic. In 1998, Empirical Labs closed the doors of the recording studio to focus on the growing signal processing business.

Today, all Empirical Labs products are still manufactured in the USA and rigorously calibrated and tested by hand. 

The Distressor® is the product that started it all for Empirical Labs. Born of founder Dave Derr's love of classic compressors like the 1176, LA-2A and Gain Brain (among others), the Distressor incorporates his favorite sonic characteristics of these, along with other unique and interesting features that have made it a staple for audio engineers all over the world. With over 28,000 units in the field, it's safe to say that the Distressor is one of the best selling high end compressors of all time…if not THE best selling. A prominent recording engineer recently wagered that there probably was not a top 40 record made in the last five years that didn't have at least one Distressor on it.

Arguably the coolest and most unique device in the Empirical Labs arsenal, the FATSO (Full Analog Tape Simulator and Optimizer) is a digitally controlled analog device that gives musicians and engineers easy access to many of the desirable characteristics exhibited by older tube and Class A electronics and magnetic tape mediums. This two channel audio processor musically integrates frequencies and transients, increasing the apparent volume while keeping tight control over peak levels.

When the engineering team at Empirical Labs sets out to build a microphone preamp, you can be sure it'll deliver spectacular sound, be effortless to work, and will provide features unlike any other device in its class. To that end, we proudly present Mike-E, a high performance transformer-coupled mic preamp with a noise floor far below any microphone's self noise, combined with a one-of-a-kind compressor/saturator circuit that delivers classic knee compression as well as versatile tonal 'coloring' that can replicate many of the best characteristics of vintage analog recording equipment.

As with ELI's other signal processors, the Lil FrEQ Equalizer takes a somewhat unique approach to its job. Instead of daisy chaining several equalizers and frequency processors, we combined most of the sound sculpting tools an engineer needs into a compact single rack space box, while still offering the highest performance of any design in its class.

There are eight sections of processing – what other EQ offers that? Even better – in addition to a master bypass, each of the Lil FrEQ's sections features its own dedicated bypass switch, letting you instantly A/B the effect of each section as you adjust and fine-tune them.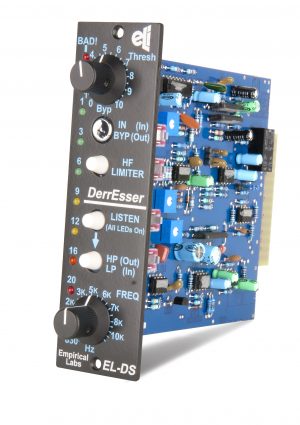 The first entry by ELI into the 500 series format, the DerrEsser is a multi function dynamic filtering device. Available in vertical or horizontal versions. A perfect fit for our EL500 powered rack. In its basic "DS" mode, it is an effective, level insensitive "de-esser" – a device that will adjust the high frequency gain on overly trebly or spiky vocals or other sources in an extremely musical manner. However, unlike other de-essers, the device allows for multiple use of its powerful circuitry.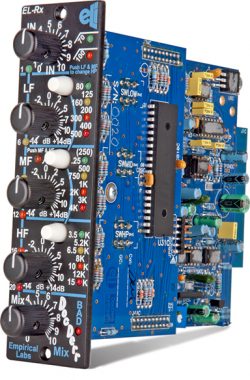 One of the newer members of the Empirical Labs family is the DocDerr, a 500 series multi-purpose tone enhancement module that houses six different sections of digitally controlled analog processing. With over two years of meticulous development and testing behind it, the DocDerr provides an unprecedented combination of power and musicality in a compact, easy to use format. Empirical Labs' first compressor in the API 500 format.